May 20, 2009
MINISTER RONA AMBROSE MEETS WITH MEMBERS OF THE EDMONTON POLICE SERVICE TO DISCUSS MEASURES TO MODERNIZE CANADA'S JUSTICE SYSTEM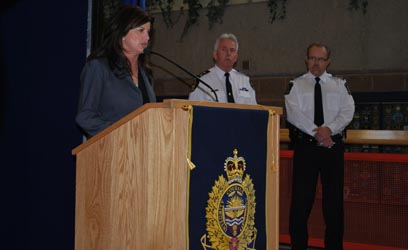 EDMONTON, May 20, 2009 – The Honourable Rona Ambrose, Member of Parliament for Edmonton-Spruce Grove and Minister of Labour, today met with Edmonton Police Chief Mike Boyd and other members of the Edmonton Police Service to discuss the Government of Canada's Act to Amend the Criminal Code and other legislation, which will modernize criminal law and make the justice system more efficient and effective.

"I was very pleased to have this discussion with Chief Boyd about what our Government has done to protect Canadians, and what we can continue to do to make communities across this country safer for Canadian families," said Minister Ambrose.  "Crime is constantly evolving in Canada so it is crucial that our criminal justice system evolves with it to respond to the needs of Canadians."
 
The latest proposed amendments to the Criminal Code and other legislation include:

Creating a new offence to help prevent individuals from fleeing a province or territory in order to avoid prosecution;
Streamlining the identification process in police stations by allowing the fingerprinting and photographing of persons in lawful custody who have not yet been charged or convicted of specific offences;
Improving the application procedure for search and seizure warrants by providing both peace and public officers with greater access to telewarrants;
Enhancing the expert witness process to allow parties more time to prepare their response to expert evidence in criminal matters;
Updating rules related to the use of "agents" (non-lawyers) in criminal proceedings, to  provide the provinces with greater flexibility on this issue and ensuring better representation of accused individuals by agents; and,
Expanding the list of permitted sports covered under the current prize fighting provisions, and updating Canada's pari-mutuel betting system.
"The Edmonton Police Service is interested in the steps the Federal Government is taking in modernizing the justice system," says Chief Mike Boyd. "The government needs to always be in tune with changing crime trends and to recognize the changes that are required to deal with it.  Today's meeting was an opportunity to share ideas and to discuss a variety of emerging issues and trends that law enforcement across the country is facing."

"Our Government will continue to work with law enforcement officials, like the members of the Edmonton Police Service, and with all Canadians on steps to strengthen our criminal justice system to ensure it provides protection for Canadians," said Minister Ambrose.  "With these amendments to the Criminal Code, our Government is continuing to take action to help ensure the safety and security of our communities.  Canadians deserve nothing less."
 
An online version of the legislation will be available at www.parl.gc.ca.

0